Celebrating 29 Years Poolside Frankston are the experts
when it comes to your swimming pool and spa.
Product details
Super Quiet:
Silensor's water-cooled motor uses a small water flow around the stainless steel, corrosion proof motor shell which captures noise and vibrations allowing the Silensor's Super quiet operation. Typically Below 55 dBa.
Cost Saving:
Silensor is designed using the latest computational fluid dynamics to move water up to 15% more efficiently than most standard pool pumps. Quietness may allow operation of the pumps late at night when energy costs are much lower (off peak).
Long Lasting:
Silensor's advanced design utilises high performance UV stabilised polymers for outdoor installation. Bolts, screws and highly corrodible metals that can rust and render a pump unserviceable have also been replaced with easily operated clamp rings, ensuring simple maintenance year after year.
Dependable:
Silensor's feature a ' Floating Neckring' system for protecting the vital mechanical seal within the pump. The seal protection system will reduce wear on the mechanical seal by excluding debris from the seal area, extending their service life and reducing maintenance. Automatic resetting 'Dry Run' protection will stop the pump running when it has no water moving inside the pump - dry running is the major cause of premature pump failure.
Performance:
Silensor features a patented clamped impeller design that provides superior air and water handling ability – a real benefit when operating with automatic cleaners that can introduce air into the plumbing system. The design also aides priming of the pump which can improve the options for positioning the pump in an out of the way position.
Convenient:
SLL models feature the largest leaf basket of any domestic swimming pool pump available, a massive 4.5 litres. More volume inside the basket allows longer intervals between cleaning without effecting filtration efficiency or pump wear and tear.
Customers who bought this product also purchased
The Pool Cleaner New 2016 Model
The best just got better....The Pool Cleaner suction pool cleaner uses your existing pump and filter for power. These automatic pool cleaners plug into either your designated suction port or the skimmer.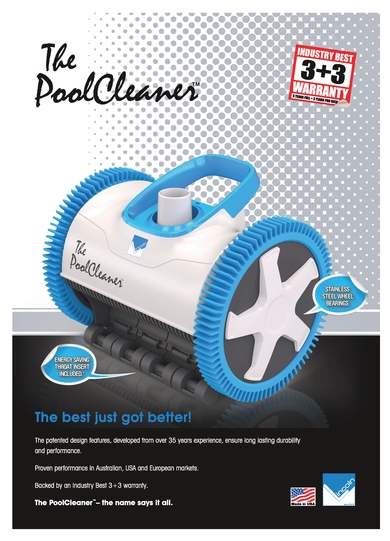 Download The Pool Cleaner Manual
Download The Pool Cleaner Brochure
Shop Hours
Monday to Friday: 8am to 5.30pm
Saturday: 9am to 4pm
Sunday: 10am to 4pm
Most Pub Holidays: 10am to 2pm
Phone: (03) 9770 1225
Fax: (03) 9770 1443
Poolside Frankston © 2019